For The Next 12 Hours, Save $180.00 On Your Order!



Backpack-Sized Machine, Full-Sized Power
Our handheld Rechargeable 24V Lithium Chainsaw is the reliable solution to all your outdoor needs. Don't let the size fool you, this mini powerhouse can cut through branches and fences like a hot knife through butter.

Perfect for spring and summer, gather wood for the campfire effortlessly. Clean up your garden and trim bushes or takedown entire trees. This backpack-sized chainsaw makes any project easier than ever. Say goodbye to wires, extra effort or moving bulky machines around, our Lithium Chainsaw offers the same power at a fraction of the price.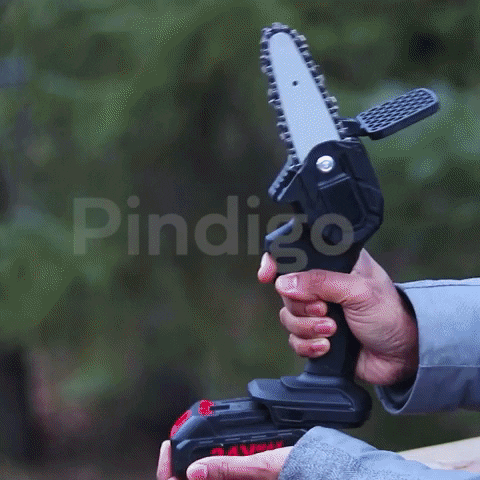 Cutting-Edge Features:
Rechargeable: Long-Lasting Lithium-Ion 24V Battery
Expertly Engineered: Precise design results in no damage to the tree bark

Convenient & Lightweight: Comfortable to hold, only 2.3LBS with battery

High-Quality Materials: Brushless copper motor for a strong, fast cut

Low Power Consumption: 20+ hours of battery life

Ergonomic Design: Variable speed adjustment trigger

Each Order Includes 1x Battery With Option Of An Additional Battery

Specifications:
Material: ABS+metal
Color: black
Battery: 1 * lithium battery, 24V, 2000mAh/36V,3000mAh(included)
Power: 550W / 840 w
Guide plate length: 4 inch
Chain speed: 5m/s & 8m/s
Package size: 300 * 120 * 110mm / 11.8 * 4.7 * 4.3in
Package Weight: 1300g / 2.9lb
Package Includes:

1 * Battery
1 * Charger
1 * Wrench
1 * Screwdriver
1 * User Manual
1 * Electric Cutting Machine